That's what really matters.
Leasing is a popular financing alternative to buying with cash not only for new cars but also for used cars.

---
Remo Capeder and Giuseppe D'Angeli are specialized in reselling used vehicles and are breaking new ground in the process.

---
We met up with the founders of caroutlet.ch for a chat and talked about their innovative remarketing approach.

---
---
caroutlet.ch: Where car buyers determine the price
At caroutlet.ch, everything takes place online, from viewing the vehicle to choosing the financing and concluding the contract.
Fresh organic eggs and strawberry syrup, with the drive taking you past chickens and farm stores. It isn't a typical area for a used-car dealership. We almost missed the discreetly signposted entrance. The team from caroutlet.ch has set up shop here in Tuggen, a small village at the upper end of Lake Zurich.
The business idea behind the used-car platform is also unconventional. caroutlet.ch isn't the usual way to buy a car. The entire process is handled digitally. Many clients still want to visit in person at the moment, explains founder Remo Capeder. But "our goal is for everything to take place online, from viewing the vehicle to choosing the financing and concluding the contract," he says.
Buyers determine the price
The detailed documentation of the used vehicles is one of the measures that is expected to bring about a change in thinking among the target group. Independent experts examine all the vehicles. All damage, down to the smallest scratches, is meticulously accounted for and published on the platform. "It creates trust," says Capeder, "and it gives prospective buyers a good idea of the state of the car."
Those who are interested in an offer can decide whether they want to purchase the car with one or two blemishes at a favorable price or have certain damage repaired for an additional charge. This means buyers can influence the price. "How important damage is to an individual is always a personal decision," says Giuseppe D'Angeli, who co-developed the concept for caroutlet.ch. A burn hole might be an absolute no-go for one person, whereas another might prefer to ignore it and save CHF 500. As much as necessary, as affordable as possible, is the motto.
"We want to move away from test driving to test owning."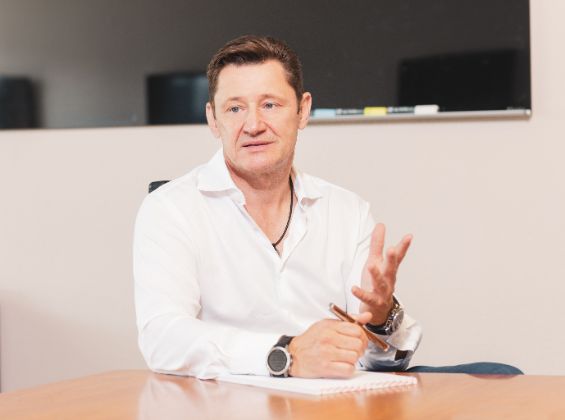 The 14-day return policy is another unique feature at caroutlet.ch. "We want to move away from test driving to test owning," says Capeder. If a buyer is not happy with their vehicle, they can return it within two weeks without having to provide a reason. Capeder is convinced that this approach, which Zalando started with its apparel business, can also be applied to used cars. "It will take a couple of years for it to take root in consumers' minds. But it will happen," he says.
"All-in-one solution" also includes financing
Leasing or personal loan: Which financing solution is best for me?
caroutlet.ch can also stand out from the competition because it does not simply pass potential buyers on to a garage or private seller, like conventional used-car platforms do, but provides the entire sales process from a single source. This "all-in-one solution," as Remo Capeder calls it, also includes the financing of the vehicles. Leasing for used cars is extremely popular, says D'Angeli. Clients would opt for this form of financing in around 30% of the contracts concluded, and this trend is increasing.
With BANK-now, caroutlet.ch has the Swiss market leader on board as its exclusive partner. "A recognized and reliable name that offers our clients attractive conditions and guarantees an efficient process," says D'Angeli. Almost the entire process, right through to the conclusion of the lease agreement, is completed online in just a few clicks.
Independent experts examine all vehicles that are offered for sale on caroutlet.ch
It is clear to both companies: Their business model has a future. The online sale of used cars is a trend that will continue to grow in the coming years. Capeder: "We are just getting started. In ten years, caroutlet.ch will really take off."
We will be happy to advise you on the phone
Call us or arrange a free callback.
0800 40 40 42
Calls are free of charge from Switzerland
Come in for a personal consultation.
Visit us at a branch near you.